LANDTOP 1HP-340HP Y2 Three-Phase Cast Iron Housing Electric Motor
Product Detail
Product Tags
Y2 series three-phase asynchronous motor is speciaIly designed for European market, whose terminal box is Iocated on the top of motor. The motor has a very compact structure and attractive appearance, the sizes and mounting dimensions are all in conformity with lEC standard. The motor has some good feature, such as high efficiency, energy- saving. High starting torque and easy maintenance etc.
Y2 series three-phase induction motors, developed with new techniques, are renewal and upgrading products of Y series.
Y2 series motors can be widely used as driving equipments of various machineries, such as, machine tools, blowers, pumps, compressors, transporters, agricultural and food processing.
Model

Rated power

Rated voltage

Rated current

Speed

Efficency

Power Factor

Locked-rotor Current

Locked-rotor Torque

Tmax/Tn

(KW)

(HP)

(V)

(A)

(r/min)

(η%)

Rated Current

Rated Torque

 

Y2-7112

0.37

0.5

220/380

0.98

2740

70

0.81

6.1

2.2

2.2

Y2-7122

0.55

0.75

220/380

1.33

2740

73

0.82

6.1

2.2

2.2

Y2-80M1-2

0.75

1

220/380

1.8

2830

73

0.84

7

2.2

2.3

Y2-80M2-2

1.1

1.5

220/380

2.5

2830

76

0.86

7

2.2

2.3

Y2-90S-2

1.5

2

220/380

3.4

2840

79

0.87

7

2.2

2.3

Y2-90L-2

2.2

3

220/380

4.7

2840

82

0.88

7

2.2

2.3

Y2-100L-2

3

4

220/380

6.4

2870

82

0.88

7

2.2

2.3

Y2-112M-2

4

5.5

380/660

8.2

2890

85

0.89

7

2.2

2.3

Y2-132S1-2

5.5

7.5

380/660

10.7

2900

86

0.89

7.5

2.2

2.3

Y2-132S2-2

7.5

10

380/660

14.2

2900

87

0.9

7.5

2.2

2.3

Y2-160M1-2

11

15

380/660

20.9

2930

88

0.9

7.5

2.2

2.23

Y2-160M2-2

15

20

380/660

27.9

2930

89

0.9

7.5

2.2

2.3

Y2-160L-2

18.5

25

380/660

33.9

2930

90

0.9

7.5

2.2

2.3

Y2-180M-2

22

30

380/660

40.5

2940

90

0.9

7.5

2

2.3

Y2-200L1-2

30

40

380/660

54.8

2950

91.2

0.9

7.5

2

2.3

Y2-200L2-2

37

50

380/660

66.6

2950

92

0.9

7.5

2

2.3

Y2-225M-2

45

60

380/660

81

2970

92.3

0.91

7.5

2

2.3

Y2-250M-2

55

75

380/660

99.6

2970

92.5

0.91

7.5

2

2.3

Y2-280S-2

75

100

380/660

133.3

2970

93

0.91

7.5

2

2.3

Y2-280M-2

90

125

380/660

158.2

2970

93.8

0.92

7.5

2

2.3

Y2-315S-2

110

150

380/660

195.1

2980

94

0.92

7.1

1.8

2.3

Y2-315M-2

132

180

380/660

231.6

2980

94.5

0.92

7.1

1.8

2.3

Y2-315L1-2

160

220

380/660

279.6

2980

94.6

0.92

7.1

1.8

2.3

Y2-315L2-2

200

270

380/660

347.7

2980

94.8

0.92

7.1

1.8

2.3

Y2-355M-2

250

340

380/660

433

2980

95.3

0.92

7.1

1.6

2.3

Y2-355L-2

315

430

380/660

544

2980

95.6

0.92

7.1

1.6

2.3

 

Y2-7114

0.25

2.33

220/380

0.76

1330

65

0.74

5.2

2.1

2.2

Y2-7124

0.37

0.5

220/380

1.07

1330

67

0.75

5.2

2.1

2.2

Y2-80M1-4

0.55

0.75

220/380

1.54

1390

71

0.75

5.2

2.4

2.3

Y2-80M2-4

0.75

1

220/380

1.99

1390

73

0.76

6

2.3

2.3

Y2-90S-4

1.1

1.5

220/380

2.8

1390

75

0.77

6

2.3

2.3

Y2-90L-4

1.5

2

220/380

3.65

1400

78

0.79

6

2.3

2.3

Y2-100L1-4

2.2

3

220/380

5.05

1400

80

0.81

7

2.3

2.3

Y2-100L2-4

3

4

220/380

6.64

1430

82

0.72

7

2.3

2.3

Y2-112M-4

4

5.5

380/660

8.62

1430

84

0.82

7

2.3

2.3

Y2-132S-4

5.5

7.5

380/660

11.5

1440

85

0.83

7

2.3

2.3

Y2-132M-4

7.5

10

380/660

15.3

1440

87

0.84

7

2.3

2.3

Y2-160M-4

11

15

380/660

22.2

1440

88

0.84

7

2.2

2.3

Y2-160L-4

15

20

380/660

29.8

1460

89

0.85

7.5

2.2

2.3

Y2-180M-4

18.5

25

380/660

36.1

1460

90.5

0.86

7.5

2

2.3

Y2-180L-4

22

30

380/660

42.6

1470

91

0.86

7.5

2

2.3

Y2-200L-4

30

40

380/660

57.2

1470

92

0.86

7.2

2.2

2.3

Y2-225S-4

37

50

380/660

69.6

1470

92.5

0.87

7.2

2.2

2.3

Y2-225M-4

45

60

380/660

84

1480

92.8

0.87

7.2

2.2

2.3

Y2-250M-4

55

75

380/660

102.9

1480

93

0.87

7.2

2.2

2.3

Y2-280S-4

75

100

380/660

138

1480

93.8

0.87

7.2

2.2

2.3

Y2-280M-4

90

125

380/660

165.6

1480

94.2

0.87

7.2

2.2

2.3

Y2-315S-4

110

150

380/660

200.2

1480

94.5

0.88

6.9

2.1

2.2

Y2-315M-4

132

180

380/660

239.1

1490

94.8

0.88

5.9

2.1

2.2

Y2-315L1-4

160

220

380/660

288

1490

94.9

0.89

6.9

2.1

2.2

Y2-315L2-4

200

270

380/660

358.9

1490

95

0.89

6.9

2.1

2.2

Y2-355M-4

250

340

380/660

443

1490

95.3

0.9

6.9

2.1

2.2

Y2-355L-4

315

430

380/660

556

1490

95.6

0.9

6.9

2.1

2.2

 

Y2-90S-6

0.75

1

220/380

2.23

910

69

0.72

5.5

2

2.1

Y2-90L-6

1.1

1.5

220/380

3.1

910

72

0.73

5.5

2

2.1

Y2-100L-6

1.5

2

220/380

3.89

940

76

0.75

5.5

2

2.1

Y2-112M-6

2.2

3

220/380

5.46

940

79

0.76

6.5

2

2.1

Y2-132S-6

3

4

220/380

7.1

960

81

0.76

6.5

2.1

2.1

Y2-132M1-6

4

5.5

380/660

9.3

960

82

0.76

6.5

2.1

2.1

Y2-132M2-6

5.5

7.5

380/660

12.3

960

84

0.77

6.5

2.1

2.1

Y2-160M-6

7.5

10

380/660

16.7

970

86

0.77

6.5

2

2.1

Y2-160L-6

11

15

380/660

23.6

970

87.5

0.78

6.5

2

2.1

Y2-180L-6

151

20

380/660

30.7

970

89

0.81

7

2

2.1

Y2-200L1-6

18.5

25

380/660

37.7

970

90

0.81

7

2.1

2.1

Y2-200L2-6

22

30

380/660

44.1

970

90

0.83

7

2.1

2.1

Y2-225M-6

30

40

380/660

58.4

980

91.5

0.84

7

2

2.1

Y2-250M-6

37

50

380/660

70.4

980

92

0.86

7

2.1

2.1

Y2-280S-6

45

60

380/660

85.4

980

92.5

0.86

7

2.1

2

Y2-280M-6

55

75

380/660

103.3

980

92.8

0.86

7

2.1

2

Y2-315S-6

75

100

380/660

140.2

990

93.5

0.86

7

2

2

Y2-315M-6

90

125

380/660

167

990

93.8

0.86

7

2

2

Y2-315L1-6

110

150

380/660

202.3

990

94

0.86

7

2

2

Y2-315L2-6

132

180

380/660

242.3

990

94.2

0.87

7

1.9

2

Y2-355M1-2

160

220

380/660

292

990

94.5

0.87

7

1.9

2

Y2-355M2-6

200

270

380/660

365

990

94.7

0.88

7

1.9

2

Y2-355L-6

250

340

380/660

455

990

94.9

0.88

6.7

1.9

2

 

Y2-132S-8

2.2

3

220/380

6

720

78

0.71

6

1.8

2

Y2-132M-8

3

4

220/380

7.9

720

79

0.73

6

1.8

2

Y2-160M1-8

4

5.5

380/660

10.3

720

81

0.73

6

1.5

2

Y2-160M2-8

5.5

7.5

380/660

13.6

720

83

0.74

6

2

2

Y2-160L-8

7.5

10

380/660

17.8

720

85.5

0.75

6

2

2

Y2-180L-8

11

15

380/660

25.1

730

87.5

0.76

6.6

2

2

Y2-200L-8

15

20

380/660

34.1

730

88

0.76

6.6

2

2

Y2-225S-8

18.5

25

380/660

40.6

730

90

0.76

6.6

1.9

2

Y2-225M-8

22

30

380/660

47.4

740

90.5

0.78

6.6

1.9

2

Y2-250M-8

30

40

380/660

64

740

91

0.79

6.6

1.9

2

Y2-280S-8

37

50

380/660

78

740

91.5

0.79

6.6

1.9

2

Y2-280M-8

45

60

380/660

94

740

92

0.81

6.6

1.8

2

Y2-315S-8

55

75

380/660

111

740

92.8

0.81

6.6

1.8

2

Y2-315M-8

75

100

380/660

151

740

93

0.82

6.6

1.8

2

Y2-315L1-8

90

125

380/660

178

740

93.8

0.82

6.4

1.8

2

Y2-315L2-8

110

150

380/660

217

740

94

0.82

6.4

1.8

2

Y2-355M1-8

132

180

380/660

261

740

93.7

0.82

6.4

1.8

2

Y2-355M2-8

160

220

380/660

315

740

94.2

0.82

6.4

1.8

2

Y2-355L-8

200

270

380/660

388

740

94.5

0.83

6.4

1.8

2

 

Y2-315S-10

45

60

380/660

100

590

91.5

0.75

6.2

1.5

2

Y2-315M-10

55

75

380/660

121

590

92

0.75

6.2

1.5

2

Y2-315L1-10

75

100

380/660

162

590

92.5

0.76

6.2

1.5

2

Y2-315L2-10

90

120

380/660

191

590

93

0.77

6.2

1.5

2

Y2-355M1-10

110

150

380/660

230

590

93.2

0.78

6

1.3

2

Y2-355M2-10

132

180

380/660

275

590

93.5

0.78

6

1.3

2

Y2-355L-10

160

220

380/660

334

590

93.5

0.78

6

1.3

2
B3 Frame with foot end shield without flange

Frame

Poles

Mornting Jimension and rlirunce

Overall dimension

No.

A

B

C

D

E

F

G

H

K

AB

AC

AD

HD

L

63M

2、4

100

80

40

11

23

4

8.5

63

7

135

130

70

180

230

71M

2、4、6

112

90

45

14

30

5

11

71

150

145

80

195

255

80M

2、4、6、8

125

100

50

19

40

6

15.5

80

10

165

175

145

220

295

90S

140

100

56

24

50

8

20

90

180

195

155

250

320

90L

125

345

100L

160

140

63

28

60

24

100

12

205

215

180

270

385

112M

190

140

70

112

230

240

190

300

400

132S

216

140

89

38

80

10

33

132

270

275

210

345

470

132M

178

510

160M

254

210

108

42

110

12

37

160

15

320

330

255

420

615

160L

254

670

180M

279

241

121

48

14

42.5

180

355

380

280

455

700

180L

279

740

200L

318

305

133

55

16

49

200

19

395

420

305

505

770

225S

4、8

356

286

149

60

140

18

53

225

435

470

335

560

815

225M

2

311

55

110

16

49

820

4、6、8

60

140

18

53

845

250M

2

406

349

168

250

24

490

510

370

615

910

4、6、8

65

58

280S

2

457

368

190

280

550

580

410

680

985

4、6、8

75

20

67.5

280M

2

419

65

18

58

1035

4、6、8

75

20

67.5

315S

2

508

406

216

65

18

58

315

28

635

645

530

845

1160

4、6、8、10

80

170

22

71

1270

315M

2

457

65

140

18

58

1190

4、6、8、10

80

170

22

71

1300

315L

2

508

65

140

18

58

1190

4、6、8、10

80

170

22

57

1300

355M

2

610

560

254

75

140

20

67.5

355

730

710

655

1010

1500

4、6、8、10

95

170

25

86

1530

355L

2

530

75

140

20

67.5

1500

4、6、8、10

95

170

25

86

1530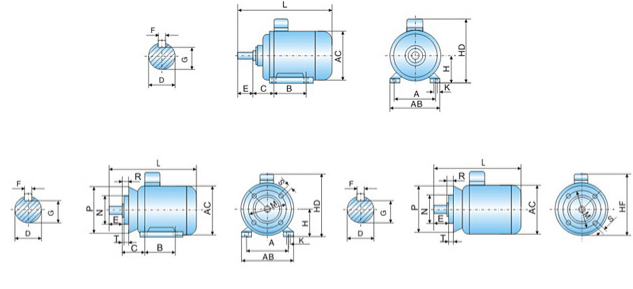 Frame Size

Mounting Dimension(mm)

Overall Dimension

A

B

C

D

E

F

G

H

K

M

P

T

S

T

AB

AC

AD

HD

HF

L

63

100

80

40

11

23

4

8.5

63

7

115

140

0

10

3

135

130

70

180

130

225

71

112

90

45

14

30

5

11

71

7

130

160

0

10

3.5

150

145

80

195

145

250

80

125

100

50

19

40

6

15.5

80

10

165

200

0

12

3.5

765

175

145

214

185

295

90s

140

100

56

24

50

8

20

90

10

165

200

0

12

3.5

180

195

155

250

195

315

90L

140

125

56

24

50

8

20

90

10

165

200

0

12

3.5

180

195

155

250

195

340

100L

160

140

63

28

60

8

24

100

12

215

250

0

15

4

205

215

180

270

245

385

112M

190

140

70

28

60

8

24

112

12

215

250

0

15

4

230

240

190

300

265

400

132S

216

140

89

38

80

10

33

132

12

265

300

0

15

4

270

275

210

345

315

470

132M

216

178

89

38

80

10

33

132

12

265

300

0

15

4

270

275

210

345

315

510

160M

254

210

108

42

110

12

37

160

15

300

350

0

19

19

320

330

255

420

385

615

160L

254

254

108

42

110

12

37

160

15

300

350

0

19

19

320

330

255

420

385

670

180M

279

241

121

48

110

14

42.5

180

15

300

350

0

19

19

355

380

280

455

430

700

180L

279

279

121

48

110

14

42.5

180

15

300

350

0

19

19

355

380

280

455

430

740

200L

318

305

133

55

110

16

49

200

19

350

400

0

19

19

375

420

305

545

480

770

225S

356

286

149

60

110

78

53

225

19

450

450

0

19

19

435

470

335

555

535

815

225M-2

356

311

149

55

110

16

49

225

19

450

450

0

19

19

435

470

335

555

535

820

225M-4.6.8

356

311

149

60

140

18

53

225

19

450

450

0

19

19

435

470

335

555

535

845

250M-2

406

349

168

60

140

18

53

250

24

500

550

0

19

19

490

510

370

615

 

910

250M4.6.8

406

349

168

65

140

18

58

250

24

500

550

0

19

19

490

510

370

615

 

910

280S-2

457

368

190

65

140

18

58

280

24

500

550

0

19

19

550

580

410

680

 

985

280S-4.6.8

457

368

190

75

140

20

67.5

280

24

500

550

0

19

19

550

580

410

680

 

985

280M-2

457

419

190

65

140

18

58

280

24

500

550

0

19

19

550

580

410

680

 

1035

280M-4.6.8

457

419

190

75

140

20

71

280

24

500

550

0

19

19

550

580

410

680

 

1035

315S-2

508

406

216

65

140

18

58

315

28

600

660

0

24

19

635

645

530

845

 

1160

315S-4.6.8.10

508

406

216

80

170

22

71

315

28

600

660

0

24

6

635

645

530

845

 

1270

315M-2

508

457

216

65

140

18

58

315

28

600

660

0

24

6

635

645

530

845

 

1190

315M-4.6.8.10

508

457

216

80

170

22

71

315

28

600

660

0

24

6

635

645

530

845

 

1300

315L-2

508

508

216

65

140

18

67.5

315

28

600

660

0

24

6

635

645

530

845

 

1190

315L-4.6.8.10

508

508

216

80

170

22

86

315

28

600

660

0

24

6

635

645

530

845

 

1300

355M-2

610

560

254

75

140

20

67.5

355

28

740

800

0

24

6

730

710

655

1010

 

1500

355M-4.6.8.10

610

560

254

95

170

25

86

355

28

740

800

0

24

6

730

710

655

1010

 

1530

355L-2

610

630

254

75

140

20

67.5

355

28

740

800

0

24

6

730

710

655

7010

 

1500

355L-4.6.8.10

610

630

254

95

170

25

86

355

28

740

800

0

24

6

730

710

655

1010

 

1530
---
---
Send your message to us:
Write your message here and send it to us